Posted by vomher on February 28, 2019.
Last updated by vomher on February 28, 2019.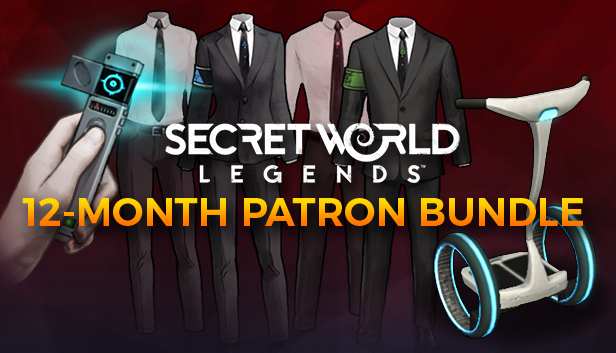 A special Patron purchase bundle is now available for a limited time! Twelve months of Patron alongside exclusive items and cosmetics - and it's not swamp gas or a weather balloon!
Make enforcing secrecy look good! For a limited time, get TWELVE MONTHS of Patron Benefits and a slew of brand-new exclusive items for your characters. Don't miss out, because once it's gone it'll be recognizable only as deja vu…
The 12-Month Patron Bundle is available for a limited time! This bundle contains 12 months' worth of Patronage, an entire clothing set called the "Secrecy Enforcement Agent" set composed of five pieces of clothing, the GLIDR sprint, and the Hypnotic Memory Surpressor gadget, which looks like a neuralyzer and behaves as an aggro-wiping gadget.
12-Month Patron Bundle Contents
360 days of Patron membership

Hypnotic Memory Surpressor - A gadget capable of acting as an aggro wipe toward enemies, excluding bosses or other players. "Wipe the short-term memory of nearby enemies in front of you, making them forget that they were fighting you. Does not work on boss or player enemies".
GLIDR - A segway sprint that leaves a neon blue trail wherever it goes! GLIDR stands for "Gyroscopic Lightweight Intuitively Driven Robot". See TSWDB's GLIDR page for an image of it!
Secrecy Enforcement Agent - This sleek suit outfit comes with the following cosmetic pieces:

Polished dress shoes, black
Tailored dress shirt and tie, white
Tailored suit jacket, black
Tailored suit jacket, faction
Tailored suit pants, black
The bundle can be purchased for $99 by all players, be they current Patrons, Lifetime Patrons (Grandmasters), or not currently Patrons at all.
At this time, the bundle price is consistent regardless of what membership type the buyer holds. Grandmasters, should they purchase the bundle, will receive the gadget and cosmetics but not additional patronage, as they are already perpetual patrons.
The Limited-Time 12-Month Patron Bundle can be purchased either through clicking the GLIDR-shaped icon on the top-bar in-game or if you have Secret World Legends through Steam, through the Steam store page for the 12-Month Patron Bundle DLC.
Check out the official news release of the bundle here!