Posted by vomher on October 13, 2021.
Last updated by vomher on October 18, 2021.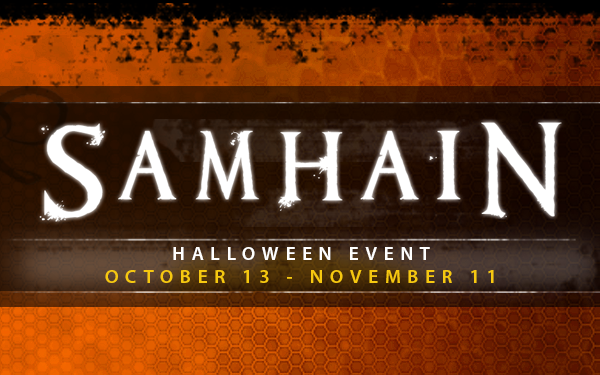 Cats cry and claw the sky while shadows quiver and shake; The air quakes as the veil breaks - Samhain is here! Secret World Legends' spookiest of seasons starts 13 October 2021 and runs through 11 November 2021.
Keep your eyes wide, because spirits also scry a slew of power items and cosmetics throughout these hallowed times.
Everyone's favorite time of year is here: SAMHAIN! Secret World Legends' Halloween event returns with seasonal cosmetics, missions, login rewards, and raid encounters! The Haunted Cache has risen from its grave (what! no winter cache??) and keep an eye out for discounts on a whole bunch of items and consumbles!

. . .

Halloween is Here! Beginning October 13 to November 11, you're invited to a grand celebration of all things spooky, wicked, and fun: Samhain! Collect exclusive mounts, pets, and costumes, fight in a killer raid, and solve seasonal missions!
Samhain 2021 is here, but don't fear - it brings with it all prior content from past Samhain celebrations in Secret World Legends: help frazzled felines with The Cat God event content in the form of The Meowling, The Cat God, and the Samhain 2017 Legend; investigate insidious airwaves as something strange sounds off into the sky on The Broadcast and the Numbers Station Legend; and fight a fearsome gourd in the form of the phantom Ghost of Jack-O-Lantern hourly boss in the Forgotten Pumpkin Patch every two minutes past the hour in Agartha (550,250). Both The Broadcast and Cat God events are initiated from a phone call from Madame Rogêt and Dave Screed, respectively, but can be picked up directly from aforementioned NPCs if need be.
Each and every day of Samhain there will be Seasonal Daily Login Rewards available to claim once per day character so that all of your characters can claim the rewards. Due to interfering technical issues that are still under investigation, Seasonal Daily Login Rewards for Samhain 2021 will be active as of 15 October 2021 instead of 13 October 2021.
Content of the Samhain 2021 Seasonal Daily Login Rewards are currently unknown, but this article and our Samhain Event Guide will be updated with information on the rewards as soon as we're physically able to do so on the 15th. If anything like last year's, there will be Imbuers, Catalysts, Dense Stabilizing Tachyons, and maybe even a Polymorphic Glyph Exchange!
UPDATE: The Samhain 2021 Daily Login Rewards activated as anticipated on 15 October 2021 and include the Sanguine Kitty, Dense Stabilizing Tachyons, a Polymorphic Glyph Exchanger, Synergizing Weapon, Talisman, and Signet Empowerment Catalysts all at 50%, an Energizing Talisman Empowerment Catalyst, and even a Talisman Anima Imbuer! Not to mention a large quantity of Anima Shards and Distillates ready to help you empower your equipment with ease.
Seasonal events often signal the changing of the Cache, and this is still true for Samhain 2021. The Oni War Cache has returned to the hellish planes from whence it came.
True to its name, the Haunted Cache will always find a way back in the dark of the night -- and now it's back in full rotation for the third time since its debut in 2017! Counting the brief time it was dropping during the Second Anniversary alongside all Caches introduced at the time, this would be the fifth time in total that the Haunted Cache has made an appearance.
Check out everything to be found within the Haunted Cache on our Cache page; arachnophobes be warned: spiders lurk amidst its loot!
Don't be afraid to check out the official announcement on the Funcom Forums for Samhain 2021!
Don't be scared – prepare! Shine light on these hallowed nights with our Up-to-Date Samhain Event Guide!