Posted by vomher on October 14, 2023.
Last updated by vomher on October 14, 2023.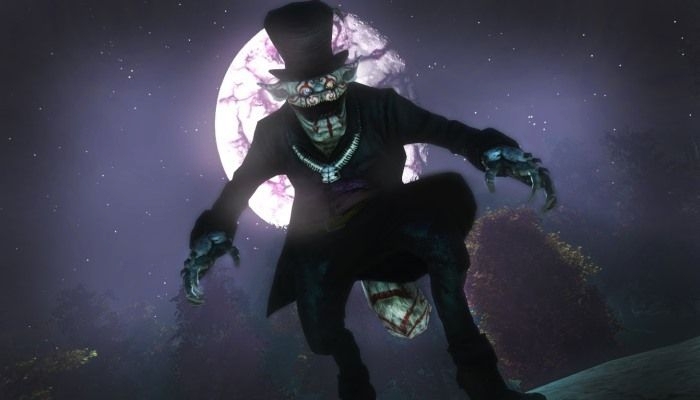 The air quakes and the veil breaks as shadows shriek: Samhain is here! Secret World Legends' spookiest of seasons starts at 09:00:00 AM EDT (13:00:00 UTC) on 15 October 2023 and is expected to run through 11 November 2023 and end on 12 November 2023 at approximately 09:00:00 AM EDT (13:00:00 UTC) to accomodate a full 28 days of Daily Login Rewards.
Seasonal Daily Login Rewards for Samhain 2023 begin on 15 October 2023 at 03:00:00 AM EDT and run through 11 November 2023! These will be available to claim once per day character each and every day of Samhain!
Samhain 2023 brings with it all prior content from past Samhain celebrations in Secret World Legends: help frazzled felines with The Cat God event in the form of The Meowling, The Cat God, and the Samhain 2017 Legend; investigate insidious airwaves as something strange sounds off into the sky on The Broadcast and the Numbers Station Legend; and fight a fearsome gourd in the form of the phantom Ghost of Jack-O-Lantern hourly boss in the Forgotten Pumpkin Patch every two minutes past the hour in Agartha (550,250). Both The Broadcast and Cat God events are initiated from a phone call from Madame Rogêt and Dave Screed respectively, but can be picked up directly from aforementioned NPCs if need be.
BE AWARE: If you proceed to Tier 3 of The Broadcast without picking up the SMS from Madame Rogêt that triggers the Meowling, then there is a chance that Madame Rogêt's SMS will interfere with Dave Screed's SMS for Tier 3 of the Broadcast and prevent Screed's SMS from being received. Game Master intervention is required in order to proceed through The Broadcast when it is bugged in this manner.
As the veil thins for Samhain, the Haunted Cache comes in to play. The Infernal Cache has returned to the Hell Dimensions for the time being. Don't let the Haunted Cache catch you unaware - check out everything to be found within the Haunted Cache and be prepared: spiders lurk amidst its loot!
Shine light on these hallowed nights with our comprehensive and Up-to-Date Samhain Event Guide!